Project type: web / cloud based application
Role in project: UX/UI Designer

Employer: EngView Systems
Project status: work in progress

EngView Systems is a company developing CAD/CAM software solutions for the packaging industry.

The production process of dies and tools has multiple stages. Everything starts with the selection and customization of a packaging product structure. Next is a layout generation, die board selection, adding tools like knives and rubbers, generation of die contours for cutting die, male and female stripping dies, front stripper tools. The outcomes of the design phase are a set of CAD drawings and machine instructions, and the outcomes of the manufacturing are sets of die and tools. In addition to the design and technological side, there is a lot of communication between clients and die makers.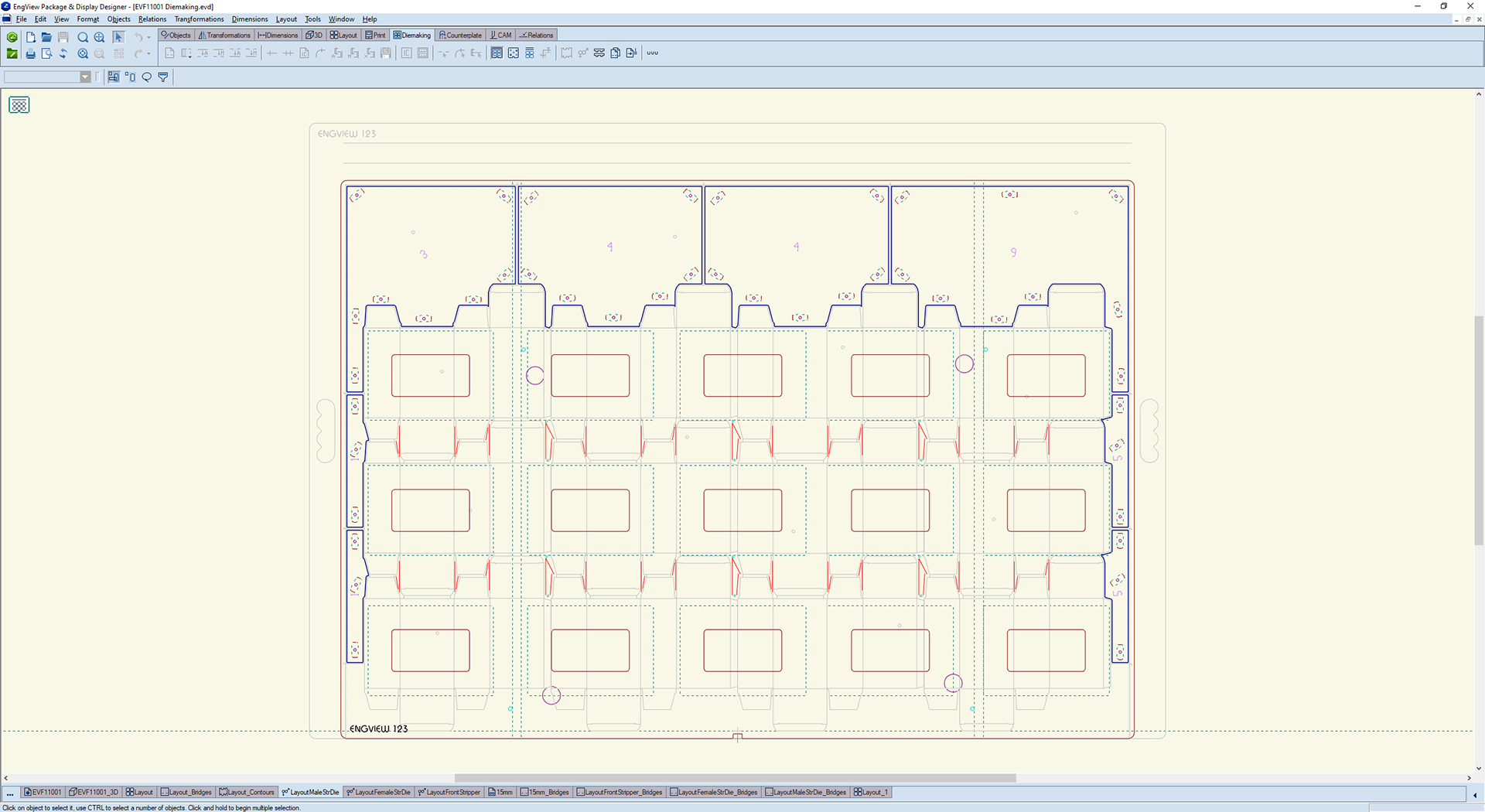 Currently, the process of customizing and ordering cutting dies and tools includes a lot of exchanged emails and phone calls or in-person discussions. This requires time and a lot of iterations.

The goal of this project is to research, design and test a web application that will automate, simplify and ease the process of ordering and communication. The web application works with a specialized CAD/CAM packaging software developed by EngView Systems. The service is cloud-based.
Regarding the level of online and Internet technologies penetration in the more traditional die making factories and in the field, we decided to start with a limited functionality version (MVP) of the platform that will give us more realistic insight about the potential real usage and level of adoption.
The service is aimed for packaging professionals like package designers working for packaging producers and printing/advertising agencies and manufacturers of cutting dies and tools - die makers working for or owning die making factories.
The project team is a small internal one, operating on a low-budget project. It consists of the company CEO who is also a subject matter expert, a project manager and a highly qualified trainer, lead product developer and stakeholder, few back-end and front-end developers. My role in the project is UX/UI Designer. External subject matter experts, clients, designers and die makers, potential early adopters and testers are consulted at different stages.
The team already had enormous field expertise and knowledge, but we had to do more extensive research on the real-life process between clients and die makers, current pain points, their needs, potential ways for improvement.
I did a competitor analysis. As a way to get some real insights about potential service interest, I suggested and planned the adding of a landing page and "Notify me when available" button to the company website about the new product.
After interviewing experts and stakeholders, I synthesized some insights and assumptions in proto personas. Even though, based on some expectations and assumptions, it is something to start with and refine later.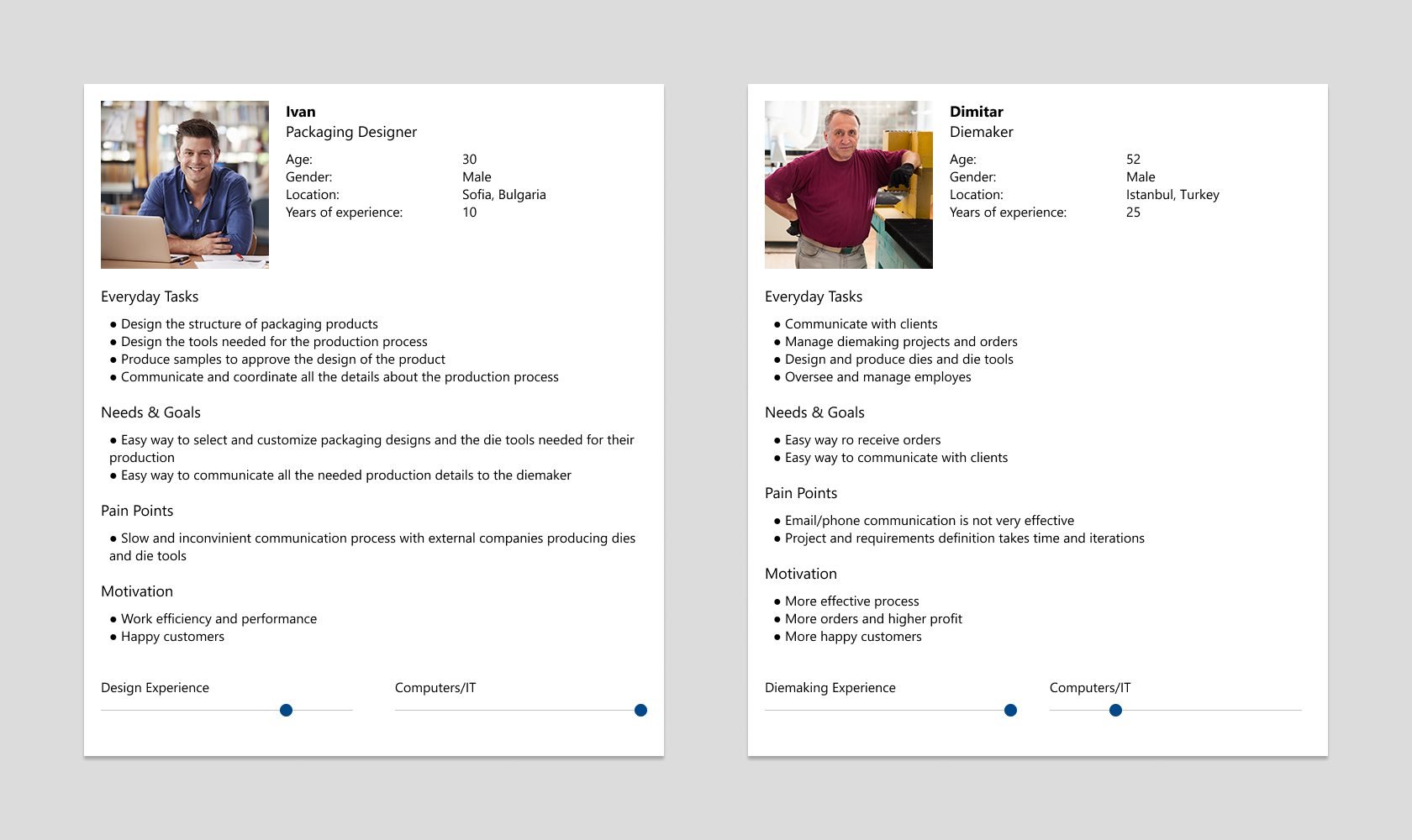 In collaboration with the team I developed a User Story Map to plan the functionality and define the product road map. Not building extra functionality and not adding tons of features is very important at this stage.


Building interactive mockups was the next step. I used Figma as a tool.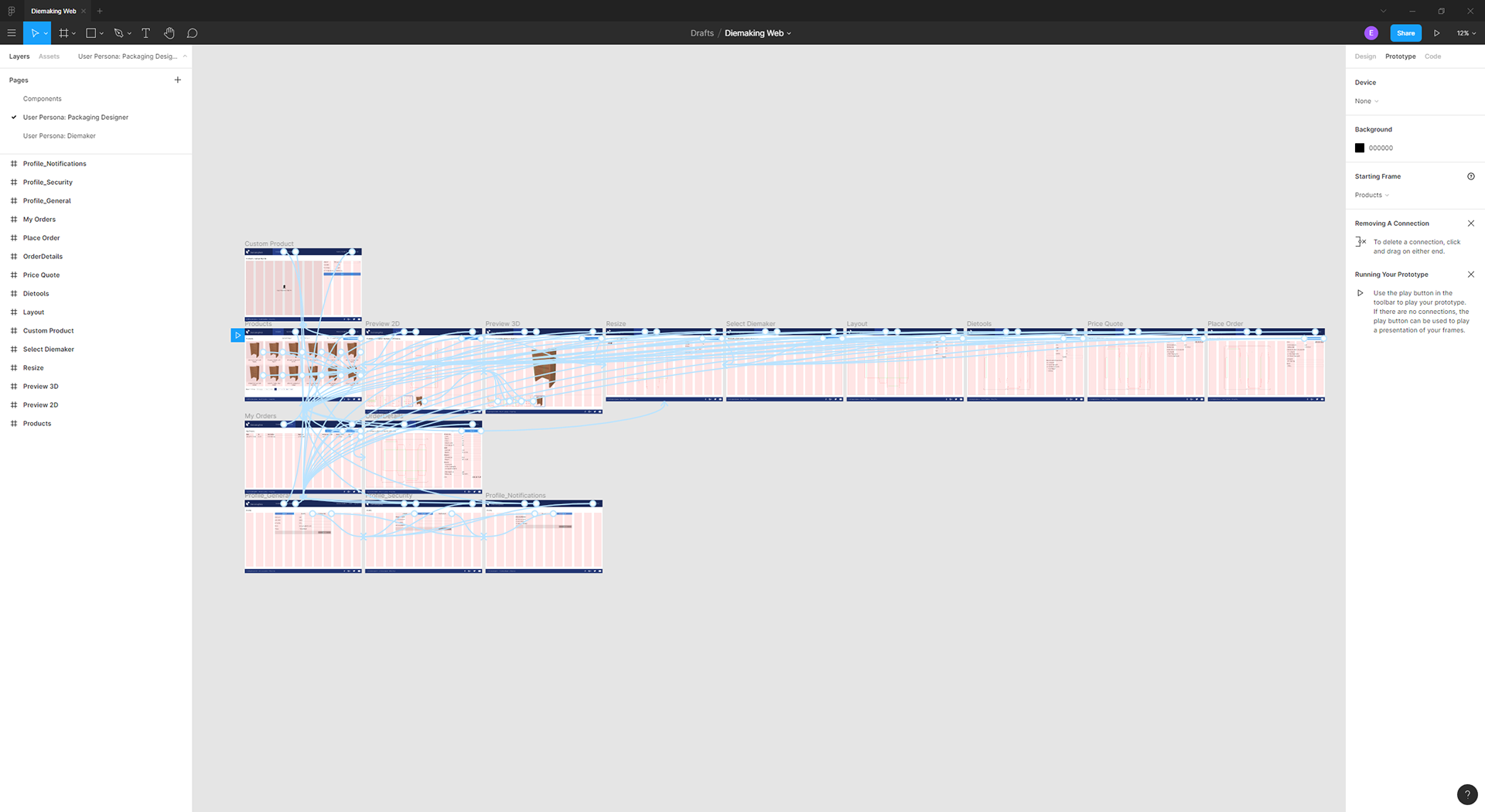 After reviewing and testing the mockups, some issues emerged and were addressed in the next design iteration.
- Moved "Select Diemaker" step at an earlier stage of the process, so that applying different pricing models based on client and project details would be possible. At first, this step was at the end because we didn't plan any differences across diemakers or products available;
- Repositioned Back/Next buttons for consistency reasons and changed labels so that it would be more clear what the next step is;
- Redesigned the switch between 2D drawings and 3D visualisation in the product preview step;
- Realised that Turkish language localization would be beneficial and essential due to the fact that one of the early customers/service adopters is based in Istanbul, Turkey. So we re-planned the multi-language support for the MVP version.